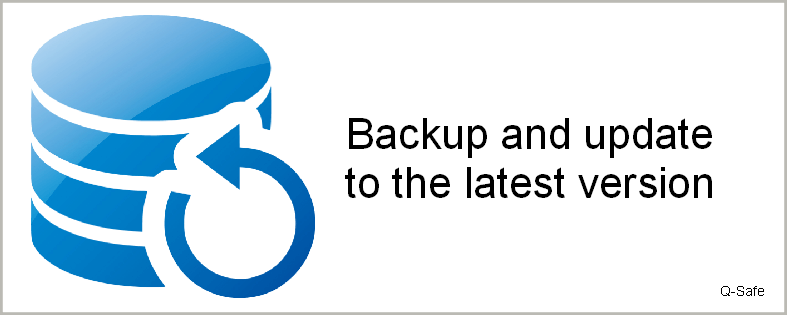 Backup q-safe for security purposes, and to upgrade your system.
As of 19 may 2023, a new version of Q-Safe is available – version 2023.5.3 – which has a completely different file structure.
Q-Safe is now 8 years old, and our developers have undertaken a major restructuring to streamline existing features and accommodate a range of upcoming new features, which are going to include:
Phone app with Inspections, checklists, incident reporting, hazard identification, site inspections.
Audits
Unlimited personalised appointments.
Unlimited company documents with expiry reminder.
Unlimited and personalised checklists and inspections.
Quicker online access.
New risk assessment builder – build a NEW risk assessment in under 5 minutes.
To transfer your existing data to the current new version, please send us your backup.
If you send by 17:00 we will return to you by 07:00 the next morning. Download and open the setupQsafe.exe program – personalised for you.
Backup Q-Safe
There is a button on your home screen. Or, top left menu: Edit > Save a copy as. Save as a .zdx file.
Save the backup q-safe to your desktop or backup service.
Send the file to support@qsafe.co.za using wetransfer.com OR if you saved the backup in Dropbox, OneDrive, GoogleDrive or other, please send us the link.
PLEASE BACKUP Q-SAFE and all your data on a regular basis. You cant afford to lose time if your computer is broken, lost or stolen.
Irregular electricity supply can also corrupt your data.
Privacy
Please note we have absolute respect for your privacy and the content of your backup.
Your update is performed by senior personnel and part of your safety file system will be shared with any other party, nor be used for any other purpose.