What is a Safety Plan?
A safety plan is frequently included when submitting a proposal or tender. Although part of a detailed Safety File, it can also be supplied on its own. Its purpose is to demonstrate to potential clients that you have considered the measures you will implement to guarantee the health and safety of your employees and other individuals on a project. Q-Safe Software can assist you in setting up Safety Plans, or we can set this up for you.
Always remember – All documents must be site specific!
Contains a wide range of subjects,
and all its content is created by safety specialists.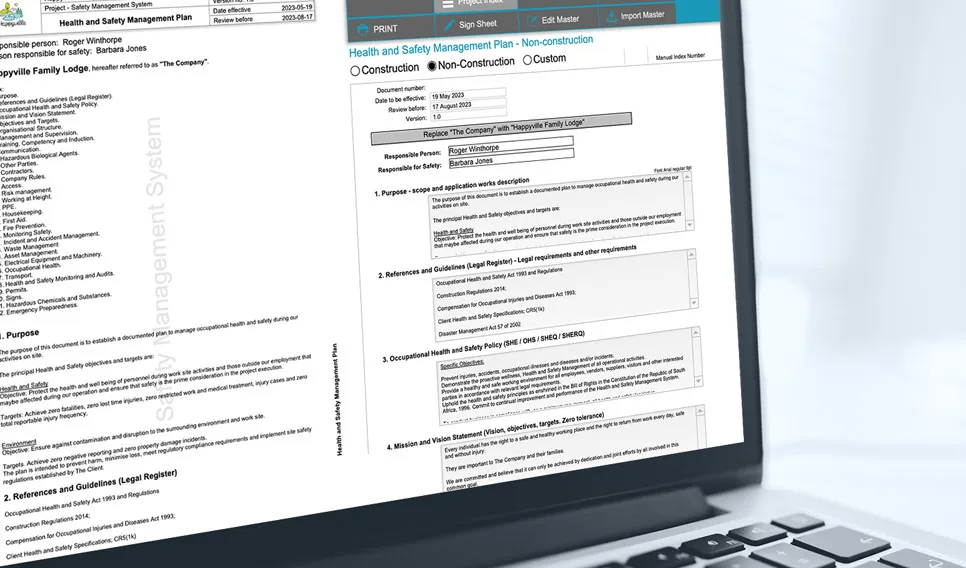 It is a set of about 45 different aspects of safety relating to a project.
Construction or Non-construction templates are available.
Purpose
Scope of Works
Potential High-risk Hazards
Health and Safety policy
Mission Statement
Project Objectives
Management and Supervision
Public Safety
Training Competency and Induction
Company Responsibilities
Communication
Covid-19
Site Briefings and Toolbox Talks
Public and Traffic
Subcontractors
Site Rules
Site Access
Risk Management
Fall Protection Plan
Confined Spaces
Personal Protective Equipment
Housekeeping
First Aid
Fire Prevention
Monitoring Safety
Reporting of Accidents
Recording and Investigating Accidents
Environmental Protection
Construction Vehicles and Plant
Ladders
Portable Electrical Equipment
Hand Tools
Health and Safety Representatives & Meetings
Documentation
Health and Safety File
Medical Fitness
Transport of Employees
Appointments
Health and Safety Audits
Permits
Signs
Hazardous Chemicals and Substances
Emergency Procedure and Evacuation
Progress Meetings
Quality Management
Employee Welfare
Materials
Waste – Control and Removal
References and Guidelines

Safety Plan Setup
R1000 one-off
Set up by our trained safety specialists.
Single project
Setup to suit your requirements
45-part site-specific Plan
Delivery generally 1 day after receipt of all required information
Sent as PDF by email.
Frequently Asked Questions
A safety plan is specific to your company's activities and your client's requirements.
What kind of safety plan do I need?
At the time of tender, it is the duty of your client to issue a "Client Health and Safety Specification". This will tell you what is required from you. If they don't supply one, use the content of the Q-Safe Safety Plan – it is well-tested!
What is the cost of the safety plan?
A common safety plan is R1000. However, phone Q-Safe support for a price. Make sure you get that client specification first. It will determine whether additional information is required – which may cost more.
How easy is it to use the safety plan?
It is all in plain language. Please remember that the content must refer to your project activities only. If you have information that is not relevant, it will fail.
What is included in the safety plan?
There are over 45 sections. Read the content carefully. Delete text that is not relevant. The full list is above on this page.
Do I need a Safety Plan?
Yes. it is a very good document, as it covers all the common aspects of health and safety that affect a company, its project, the hazards and risks, its workforce, other workers and the public.