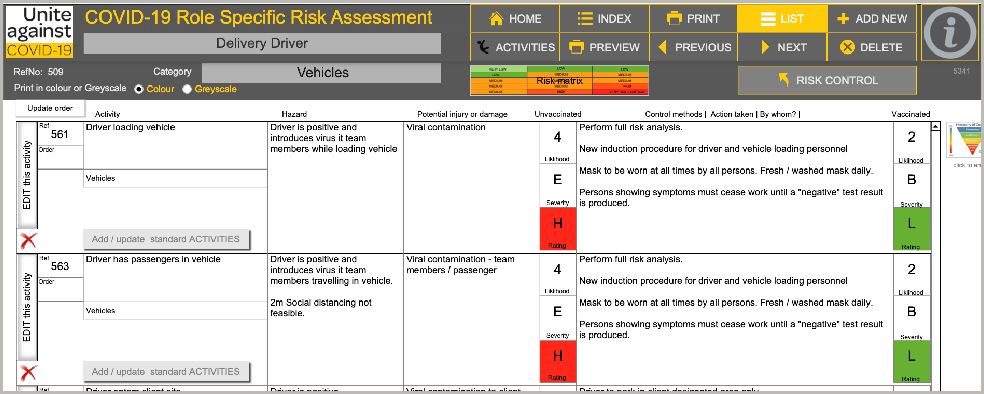 Building a risk assessment can be a slow and complicated process. We show you how to do this in under 5 minutes.
We use these to establish what could go wrong on a project.
If you consider what can go wrong, you can plan your activity so the risk is minimised or eliminated.
In an assessment, we look at:
What is the activity?
What is the hazard / what can go wrong?
What is the possible outcome of that activity going wrong?
Rate the 'Raw risk' before safety measures are put in place.
List the controls we are going to put in place to minimise or eliminate the risk.
Re-evaluate the risk after the proposed controls are in place. Is it safe enough to proceed?
Print in colour or greyscale.
You also have the option of printing a sign sheet to show you have communicated the risk assessment to your workers.
How do we create a risk assessment?
Most businesses do a similar task on a regular basis. Create a risk assessment for what you do, then copy it, and edit it for the new project. Then save it with the 200+ other risk assessments available for your use.
Alternatively, create a new one from scratch. Scroll through a list of possible activities – all sorted by category -and select activities which may be relevant to your project.
Once done, select an approximate order of each activity. You may need to add new activities which are not on the activity list (and add them to your Activity Library).
Finally, fine-tune the order in which all the activities appear.
Q-Safe has a risk assessment builder which allows you to select from a library of 500+ activities to build the assessment quickly. Add your own if needed.